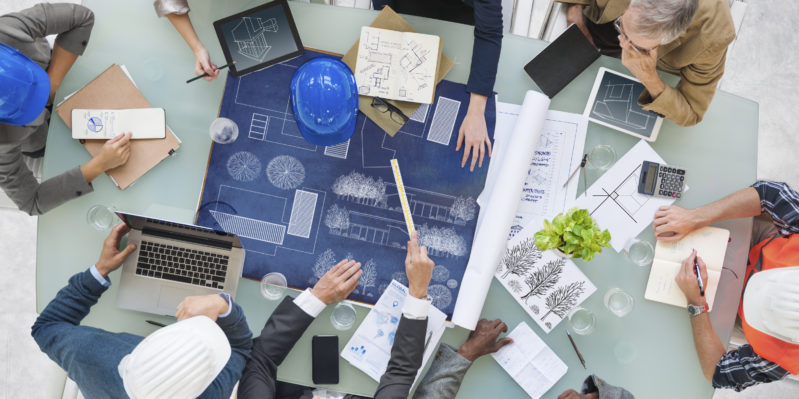 Building a solid career
Construction industry needs new, skilled workers
By Naomi Sheehan
Even after taking a hit in the 2008 financial meltdown, construction remains a prime driver of the American economy. The sector has been pegging steadily upward over the past five years, and is projected to gather steam in the coming decade.
One hitch? Many skilled tradesmen left construction never to return after the downturn, and the industry can barely keep up with demand for lack of skilled new workers. Most in demand are carpenters, electricians, and project managers, all trades with good pay and an education of two years or less followed by an apprenticeship on the job.
A 2015 survey of the Associated General Contractors of America, a construction trade group, found nearly 9 in 10 building companies struggling to fill open positions, and a quarter of all companies had to turn down work because they lacked the necessary labor on hand.
The manpower shortage is so acute that more than half of AGCA builders reported increasing wages to attract applicants. The median age of construction workers is 42, higher than the national median. That means that by 2025, much of the current workforce will be retiring.
Industry news site Construction Dive characterizes this as a "chronic labor shortage," and the AGCA has called for the development of a "pipeline of new workers" from technical programs. This means that for students who take up construction trades, solid career prospects await.
More than muscle
Construction is a lot more than hammers and nails – it is a field where creativity, communication and problem-solving skills are in high demand. A carpenter may enter the field toting a toolbox and advance into an administrative role overseeing projects and working with architects, estimators, lawyers, and customers.
Beyond the physical strength and endurance required in construction, workers who possess business skills, knowledge of math, and a detail-oriented nature excel in the trade.
Other high-demand areas of specialization include electrical and plumbing. Virtually every modern building has electrical power, communications systems, plumbing, and gas pipelines. The installation and maintenance of these systems require skilled technicians.
Technology applied
Building techniques have changed enormously over the past few decades, with new technologies introduced all the time.
Pre-fabricated building: One construction method called "offsite" or "prefab" has introduced efficiencies into building, especially on large-scale projects, by assembling large parts of buildings ahead of time and assembling them on site.
Building Information Modeling, or BIM, is another change in the industry. BIM is the use of digital models in construction, a technology that has increased accuracy and saves time in the documentation of a project. Digital technology has increased collaboration among the different crews across a worksite.
Emerging tech: Tomorrow's construction industry may employ 3-D printing technology to create exact three-dimensional models of real-world job sites, to interact with BIM digital blueprints. Construction crews can also expect to manage robots that perform labor like bricklaying.
Green technology: Commercial construction has led the way in adopting green energy and building practices, and now these techniques are being deployed in residential construction.
The trend is taking off in new home-building as well as in the remodeling market. Speaking at the Greenbuild 2015 convention in Washington, D.C., industry expert Donna Laquidara-Carr of Dodge Data & Analytics predicted that as young families buy homes, green would go mainstream. "The builder and remodeler commitment to green homes continues to grow, and consumer expectations about green homes are transforming the marketplace," she noted. "Clearly, the industry is thinking green is the direction to go."
For more information about the Building Construction Technologies program at Isothermal, contact Michael Lyda at [email protected] or call 828-395-1605.
Construction Careers
Carpenters
Median pay $40,820 per year
$19.63 per hour
Employment change 2014-24 60,400 new jobs
Growth rate 2014-24 6% (As fast as average)
Construction Laborers and Helpers
Median pay $30,190 per year
$14.51 per hour
Employment change 2014-24 180,100 new jobs
Growth rate 2014-24 13% (Faster than average)
Construction Managers
Median pay $85,630 per year
$41.17 per hour
Employment change 2014-24 17,800 new jobs
Growth rate 2014-24 5% (As fast as average)
Electricians
Median pay $51,110 per year
$24.57 per hour
Employment change 2014-24 85,900 new jobs
Growth rate 2014-24 14% (Much faster than average)
Masonry Workers (Masons)
Median pay $38,720 per year
$18.61 per hour
Employment change 2014-24 37,300 new jobs
Growth rate 2014-24 15% (Much faster than average)
Plumbers, Pipefitters, and Steamfitters
Median pay $50,660 per year
$24.36 per hour
Employment change 2014-24 49,100 new jobs
Growth rate 2014-24 12% (Faster than average)
The Power of Powers
Did you know that most students from Rutherford and Polk counties can attend Isothermal at little to no cost? In fact, 86.5 percent of all Isothermal students were awarded some form of financial aid in recent years.
The Powers Service Scholarship Program was established in memory of Lee L. Powers, a community leader who served on the steering committee that formed Isothermal Community College in 1964. He also served on the college's first Board of Trustees.
The program is for residents of Rutherford and Polk counties and can provide tuition after funds from other sources such as Pell Grants are used. In return, the recipient is expected to perform 5 hours of volunteer community service each semester. Waivers are available for those working full-time or serving in the military.
Many other institutional scholarship programs are also available at Isothermal. Check with the Financial Aid Office at 828-395-4198 or visit http://www.isothermal.edu/current-students/financial-aid/index.html for more details.
Call today!