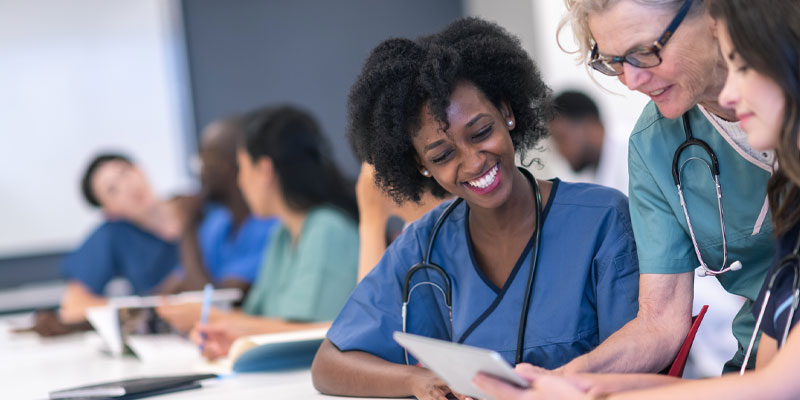 Healthcare workers have never been more important, and respected! Firefighters, office workers, patients—and just about everyone—are applauding our healthcare workers combatting the coronavirus. These selfless workers deserve our collective thanks for stepping up to save lives.
Do you have what it takes? Do you have a big heart and want to serve your community? Are you looking for stable employment and the deep joy associated with a helping profession? If so, you,
too, can join the ranks of the heroes of our time!
Community Colleges are specialists in health fields!
Community colleges have long specialized in training for numerous healthcare careers. Many of those who achieve a Bachelor's degree in nursing or pharmacy began at community college. The fact is that graduates with a two-year certification and/or associate degree can make excellent wages in the allied healthcare industry. There are five million allied health care providers in the US who work in than 80 different professions.
Pathways available at your community college can get you started in: radiology, nursing, dental technology, nutrition, pharmaceuticals, sonography, audiology, cardiology, anesthesiology, medical assisting, healthcare administration, and more.
Jobs are waiting for qualified applicants!
Allied health workers are the vital link which make our healthcare system work. Moreover, the demand from hospitals, doctor's offices and labs for qualified professionals far outstrips the number of applicants in many of these fields. These careers boast nearly full employment.
Experts say this trend will continue into the foreseeable future, long past COVID-19, because of the aging US population. By 2050, the world's population aged 60 years and older is expected to total 2 billion, up from 900 million in 2015. Already, more Americans are over the age of 65 than at any other time in history. Moreover, a huge number of healthcare professionals are also at retirement age themselves, creating an enormous need for licensed healthcare professionals.
Career options through community college
Community colleges are highly attuned to the needs of the job market. Our counselors will help you consider your interests, academic strengths, and choose the right program. We have drawn much of our information from the US Bureau of Labor Statistics [https://www.bls.gov/bls/employment.htm] and recommend that site for exploring career paths. Another helpful reference is the American Institute of Medical Sciences and Education.
Here are some of the hottest allied healthcare jobs now:
Dental Hygienist
Oral health is more important than most people realize. The condition of your mouth, teeth and gums is a window to your overall health. Dental hygienists educate patients on oral hygiene, provide teeth cleaning and fluoride treatments, as well as examine x-rays. According to the Bureau of Labor Statistics (BLS), hygienists' median salary was $77,230 as of 2019, making this vital profession among the highest paid within allied health.
Diagnostic Medical Sonographer
Are you technically-minded and good with advanced instruments? Diagnostic medical sonographers and cardiovascular technologists and technicians, including vascular technologists, operate special imaging equipment to create images or to conduct tests. Frequently recognized for their use in obstetrics, sonographs are used in a wide range of other diagnostic testing, including heart disease. Sonographers enter the career with two- or four-year degrees and have attained a median salary of $68,750.
Pharmacy Technician
Technicians in this field of work play a vitally important role in the link between physicians and patients. This job requires greats responsibility and attention to detail. Pharmacy Techs prepare medications for patients and typically make around $35,250 a year. In most states, technicians can compound or mix some medications and call physicians for prescription refill authorizations. Pharmacy technicians who work in hospitals often prepare a greater variety of medications, such as intravenous medications. Additionally, they may make rounds in the hospital, giving medications to patients. Community colleges are well equipped to prepare students for the licensing examination. Increased demand for prescription medications is expected to lead to greater than average demand for trained pharmaceutical technicians.
A final option … Licensed Practical (LPN), Certified Nursing Assistant (CNA) or Vocational Nurse (LVN)
While licensed practical nurses, certified nursing assistants and vocational nurses is not technically part of the allied health fields, nursing at all levels of certification is in high demand. Working in a variety of environments, whether hospital, hospice, nursing home, or schools, nurses are critical in a wide variety of capacities. The duties of LPNs and LVNs can vary depending on work setting and state. For example, they may reinforce teaching done by registered nurses regarding how family members should care for a relative; help to deliver, care for, and feed infants; collect samples for testing and do routine laboratory tests; or feed patients who need help eating. Average LPN and LVNs are making $48,500 a year, while CNAs can make between $28,000-$34,000 a year. Your community college will help you gain the skills to pass the National Council Licensure Examination (NCLEX-PN).