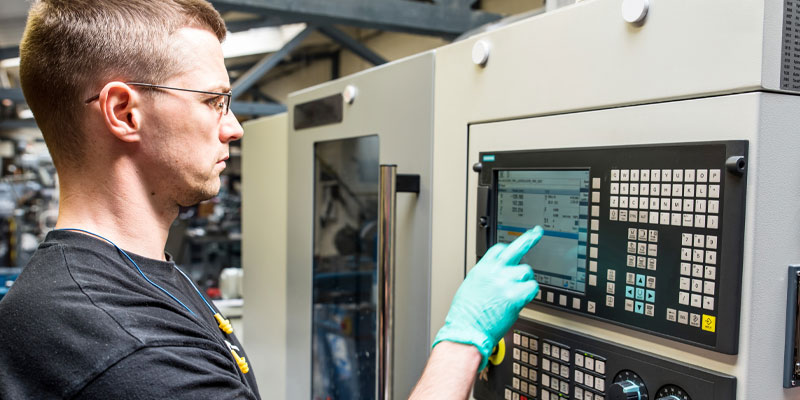 You may have heard that manufacturing jobs are a thing of the past. While it's true that old-fashioned assembly line jobs are dwindling, a new kind of manufacturing job is starved for skilled workers.
Today, over 60 percent of manufacturing employees have at least some college education, according to a U.S. Department of Commerce report. At the same time, according to the Bureau of Labor Statistics the U.S. has 12.75 million manufacturing jobs which employs 8.5 percent of the workforce. These jobs pay 12 percent more than all others.
As a result, positions such as skilled machinists, equipment operators, welders and technicians are vital, and entry-level jobs in advanced manufacturing can often be difficult to fill.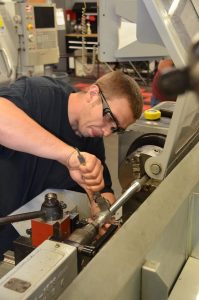 With automation driving modern manufacturing, the need remains for workers who can program, manage and repair devices. Employers need trained workers to fill vacancies and Isothermal Community College works with companies in western NC and upstate SC to provide them with the high quality, skilled employees they need.  Businesses such as Trelleborg, Eaton, Parker- Hannifin, Timken, Cardinal Tissue and many others frequently hire ICC graduates.
Technicians
In the Computer Integrated Machining program at Isothermal, students learn the skills needed to prepare for careers such as machining technicians. The program teaches students the theory and safe use of hand tools, power machinery, computerized equipment and sophisticated precision inspection instruments. The diploma program can be completed in one year and many students are offered employment from a regional manufacturer before graduation. In fact, nearly every 2019 machining graduate received job offers or were already employed prior to the program completion date.
Trades
Others careers in demand, such as welders, require skilled workers who can perform intricate, custom work. Welders typically earn a certificate or diploma to acquire the skills they need. They must learn a range of techniques for welding a variety of metals.  Students in the Welding Technology program at Isothermal learn how to research, interpret and apply codes and welding procedure specifications; generate sketches and interpret conventional and CAD-generated prints; gain the knowledge of welding inspection methods; and testing of weldments with non-destructive and destructive methods and understand how to set up, program, operate and troubleshoot automated equipment related to the welding industry.  The basic certificate and advanced certificate options can be completed in one semester, while the diploma program can be completed in one year.
Another area that prepares students for great careers is Electronics Engineering Technology. This curriculum teaches students to apply basic engineering principles and technical skills to become technicians who design, build, install, test, troubleshoot, repair, and modify developmental and production electronic components, equipment, and systems such as industrial/computer controls, manufacturing systems, communication systems, and power electronic systems. The program includes instruction in mathematics, basic electricity, solid-state fundamentals, digital concepts, and microprocessors or programmable logic controllers. Graduates often begin their careers as electronics engineering technician, field service technician, instrumentation technician, maintenance technician, electronic tester, electronic systems integrator, bench technician, and production control technician.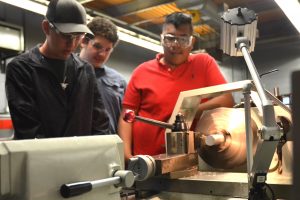 Industrial Systems Technology is another area that leads to many opportunities.
This curriculum is designed to prepare or upgrade students' skills to safely service, maintain, repair, or install equipment. Instruction includes theory and skill training needed for inspecting, testing, troubleshooting, and diagnosing industrial systems. Students learn multicraft technical skills in print reading, mechanical systems maintenance, electricity, hydraulics/pneumatics, welding, machining or fabrication as well as various diagnostic and repair procedures. Practical application in these industrial systems is emphasized and additional advanced course work may be offered. Upon completion of this curriculum, graduates are prepared to safely install, inspect, diagnose, repair, and maintain industrial process and support equipment. Students will also be encouraged to develop their skills as lifelong learners. 
Electrical Systems Technology
The Electrical Systems Technology curriculum is designed to provide training for persons interested in the installation and maintenance of electrical systems found in residential, commercial, and industrial facilities. Coursework, most of which is hands-on, will include such topics as AC/DC theory, basic wiring practices, programmable logic controllers, industrial motor controls, applications of the National Electric Code, and other subjects as local needs require. Graduates qualify for a variety of jobs in the electrical field as an on-the-job trainee or apprentice assisting in the layout, installation, and maintenance of electrical systems.
Computer Aided Drafting
Do you have a creative spirit and passion for technology? These are perfect elements for a bright future with Isothermal Community College's Computer Aided Drafting (CAD) Technology program. Students who enjoy problem solving and design will learn to master the latest CAD software with help from industry experts.  Using 2-D and 3-D modeling, students take conceptual architecture, engineering and mechanics, and make them reality. The CAD program can be completed as an associate degree, diploma or certificate.
For important information about educational debt, earnings and completion rates of students who attended these programs, visit www.isothermal.edu
Career Outlook
Welder $19.04 hourly, $41,470 annually
Projected growth (2018-2028) 4.5%
Projected new job openings (2018-2028) 48,800*
Machinist $21.60 hourly, $46,325 annually
Projected growth (2018-2028) 6.5%
Projected new job openings (2018-2028) 41,600*
Electrician $21.48 hourly, $45,460 annually
Projected growth (2018-2028) 8%
Projected new job openings (2018-2028) 62,200*
Computer Aided Drafting Technology $23.50 hourly, $54,830 annually
Projected growth (2018-2028) 12%
Projected new job openings (2018-2028) 5,400*
All wages are the median for 2018. All data from Bureau of Labor Statistics and Onetonline.org.
* National data